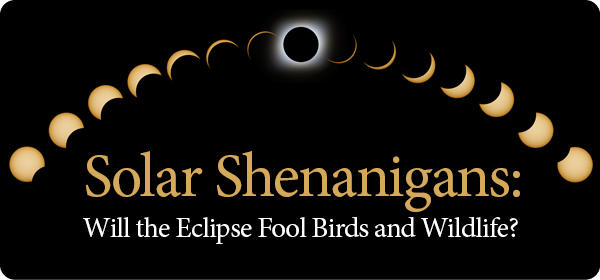 As the excitement builds towards the solar eclipse on August 21st, we are fielding lots of questions about what impact this spectacular event will have on birds and other wildlife.
There are numerous anecdotal accounts and observations that appear to show that many species of birds and other wildlife do react in different ways to the eclipse. These reactions can occur as the eclipse progresses and enters totality, as well as when the sun re-emerges.
Here are some of the reactions by birds and wildlife that have been reported to occur during previous total eclipses:
Birds
Confused Crooners - Songbirds have been noted to decrease their singing as an eclipse progresses, often to a point of total silence during the maximum darkness of totality. Speculations is that the darkening sky triggers the birds' night-time behaviors.
Out of Sync Singers - Observations show that some birds may also be confused by the re-emergence of the sun and a "dawn chorus" of bird song might be heard just as it would be during a morning sunrise.
Day or Night? - Numerous bird species have been reported to return to their night-time roosting locations as the total eclipse progresses. Starlings have been noted to return in large flocks to their roosts and display agitated behavior until the light returns to normal.
Night or Day? - Nocturnal birds such as owls, whip-poor-wills and nighthawks have been reported to either become active, take flight or call during total eclipses.
Fowl Rowel - Domestic fowl and pigeons have been observed to quickly return to their roosts or coops as the eclipse darkens the sky.
Savvy Shorebirds - Anecdotal observations seem to imply that in general, shorebirds seem to display very limited reactions to total solar eclipses.
Other Wildlife
Early Chirpers - Crickets have been widely observed to start "chirping" as the sky darkens and then fall silent upon the re-emergence of the sun. Katydids have also been reported to demonstrate this same behavior.
Silent Cicadas - Cicadas have been noted to end their shrill day-time calling and fall silent as the eclipse progresses.
Moving Mosquitos - During the darkest portions of an eclipse, mosquitos have been noted to emerge in mass.
Hustling Honeybees - Honeybees have been observed to return in swarms to their hives as the eclipse darkens.
Dream Weavers - Orb-weaving spiders, which generally re-weave their webs every night, have been observed to dismantle their old web during the darkness of an eclipse.
Busy Bats - Bats have been noted to emerge from their roost as the sky darkens and then return with the re-emergence of the sun.
Sly Skunks - Skunks, which are largely nocturnal, have been reported to come out and start foraging as it grows darker during an eclipse.
Sleepy Squirrels - Squirrels are reported to retreat to their nests during a total solar eclipse.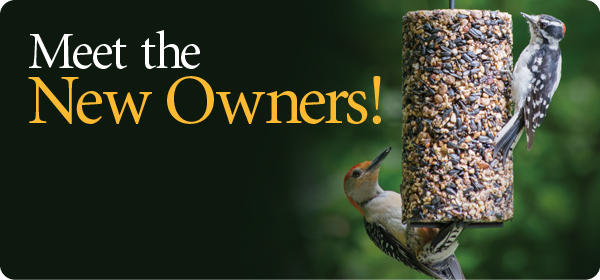 We're Amy Legg & Kellie Watts and we recently purchased the Wild Birds Unlimited store located in Warson Woods, MO. We're anxious to get to know you and to help you enjoy your backyard bird feeding hobby. Please stop by the store soon to introduce yourself.

Give Birds a Reliable Food Source
You have your favorite places to eat, whether it's a quick bite or a really nice meal. You trust and rely on them, never considering they might run out of food. Birds are similar. They constantly check their food sources. They may stay and eat a while or just grab a quick bite. But, they want to know they can rely on that food source when weather is good or bad or when times are abundant or lean.
So in order to meet your birds' needs, it is important to have at least one foundational feeder that dependably provides food every day. Studies have demonstrated that a constant, and reliable source of supplemental food helps to improve the overall health and body condition of wild birds.
This foundational feeder should be able to accommodate many birds at one time like our hopper, tube or cylinder feeders. It should have a quality food that attracts the widest variety of birds like our No-Mess Blend or No-Mess Cylinder. It should hold enough food for at least 4 days giving birds a reliable food source, ensuring you'll have more birds to watch! Be sure it works for you, too, by placing it where it is easy to fill and easy to see.
Having a foundational feeder in your yard that never goes empty is key to helping birds improve and maintain their overall health and helping you enjoy more birds. Visit our store to learn more about maintaining a foundational feeder in your backyard.